Batte Machinery Zhengzhou Co., Ltd.

E-mail: info@battemachinery.com
whatsapp: +86 158 38331071
Tel: +86 371 67991755
After-sales Tel: +86 371 67997677 / 67997877
Address:No.11 Changchun Road, High-tech Zone, Zhengzhou, China.
About Batte Machinery
Batte people in the exhibition
Batte Melt Pump Zhengzhou Co., Ltd. is one of the manufacturers of melt pumps, gear pumps, metering pump and loss-in-weight feeders, volumetric feeders,screen changer in China. Batte has many experienced and outstanding plastic machinery talents, so it can continuously develop the new products by self-innovation or by introduction and absorbing new technology, meanwhile Batte also improves constantly the design of products and production technology service.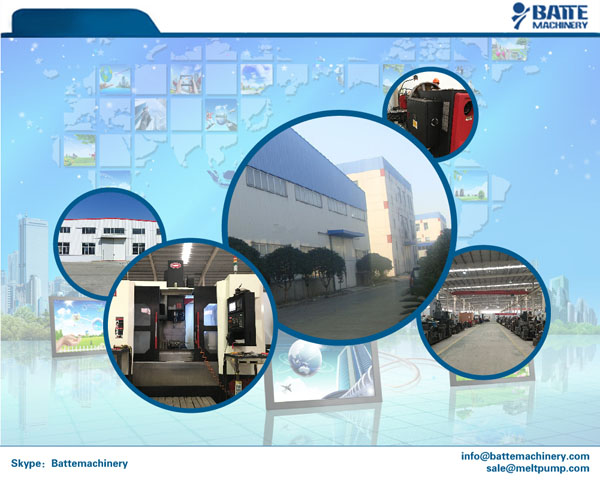 Part of Batte's factory
Batte's policy is to be based on continuous researches and exploitations. That makes us manufacture high-tech and high efficient products which have excellent reliability. All raw materials and spare parts of products are selected carefully and assembled with skilled experience. Pre-delivery debugging of melt pumps is the best quality assurance before they are leaving the factory.
Batte is aimed at improving customers' usage value by our ongoing efforts and supporting better services, thus receiving recognition and more orders from customers.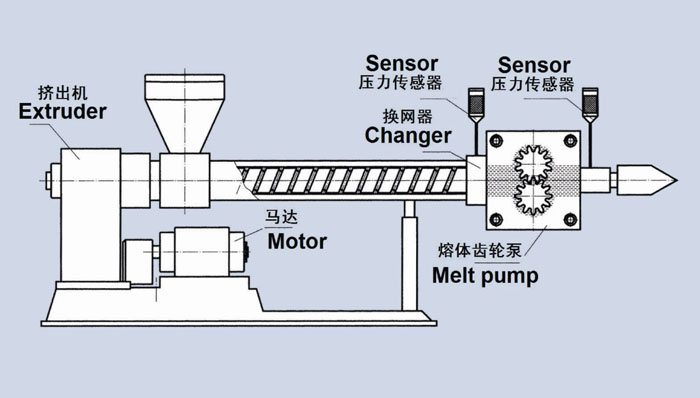 Melt pump system running in the extruder production line
Our pumps are widely used in plastic, resin, plate, sheet and rubber extrusion. For example, plastic extrusion machinery for PA, PP, PS, PE, PET, PC, ABS and so on is all using melt pumps to eliminate extruders' surge and screws' beat.
Our feeders are suitable for different kinds of powders. Networking loss-in-weight feeding equipment supports the unified database, in order to realize the process which is based on database system. Configurable options can meet factories' demands in health and are explosion proof, waterproof and corrosion resistant.
Our screen changer can not only filter the impurities, but also can significantly improve the plasticizing and homogenization effect of the raw material. In this way, it can make the product structure more homogeneous and product surface more smooth, thus improve the quality of extruded products. In a word, Batte screen changer can reduce the unit cost and increase hourly output.
Our product are exported to Taiwan, Japan, USA, Turkey, Mexico, Brazil, Russia, India, Malaysia, Vietnam, Iran, and other countries and regions and received high praised by our customer.
Batte Team: Batte has a strong engineer team with international professional level, and commits to offer customers with high quality products and to provide satisfied service, create the market value.
Batte Mission: committed to plastic extrusion processing, the development of energy saving, the environmentally friendly products, the establishment of industry's leader, and the creation of well-known brand at home and abroad.
Our advantages:
1. we have CE,ISO,SGS and BV certificate;
2. we have 11-year experience;
3. we are a leading brand in China;
4. we have over 100 workers to ensure quick delivery;
5. we have 10 engineers to design special concrete plants for our customers;
6. we have after sales service like: installation, debugging, operator trainning and spare parts supply.