Batte Machinery Zhengzhou Co., Ltd.

E-mail: info@battemachinery.com
whatsapp: +86 158 38331071
Tel: +86 371 67991755
After-sales Tel: +86 371 67997677 / 67997877
Address:No.11 Changchun Road, High-tech Zone, Zhengzhou, China.
Polymer extrusion melt gear pump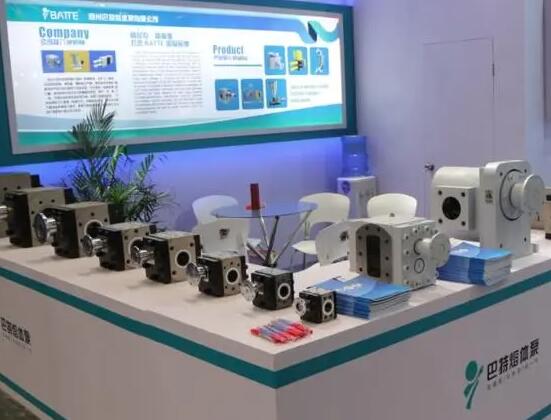 A melt pump (melt gear pump) is mainly used for conveying, pressurizing, and metering high-temperature and high viscosity polymer melt. Polymer melt pump is widely used in extrusion molding of plastic, resin, rubber, and chemical fiber products abroad. It is generally installed between the outlet of the extruder and the die head as a metering pump. The heating mode is mainly electric heating. By precisely controlling the output of the melt, it eliminates many variables that affect the output stability of the extruder. The pump can compensate for problems such as poor or unstable temperature control, feed interruption, changes in the polymer mixture (i.e., changes in the amount of regrinding), and fluctuations due to inaccurate screw design.
Melt gear pump-teachnical specifications:
materials: pet, PS, PP, PE-LLD, PE-HD, PC, POM, PLA
throughput: 30-12000 kg / h (66-26400 lb / h)
differential pressure - Standard (maximum): 250 bar (3626 psi)
differential pressure - Option (maximum): 500 bar (7252 psi)
viscosity: 5-40000 pas
temperature (maximum): 400 ° C (750 ° F)
Model/volume range:0.5cc-12000cc
brand: Battle (made in China)
Melt pump - application classification options:
Model
Application
Description
Melt Pump Image
ZB-B/
ZB-C
thermoplastic materials
1.Suitable for polymer materials:
PET/ PBT/ PTT/ PETG/ PAN/ PA6/ PA66/ PA12/ PA1010/ PE/ LDPE/ LLDPE/ HDPE/ HMWPE/ PP/ PB/ EVA/ PS/ HIPS/ ABS/ SAN/ PC/ PEEK/ PMMA/ POM/ TPU/ PVC

2.Suitable for fluoroplastics:
PTFE/ FEP/ PFA/ ETFE/ PVF/ PVDF

3.Suitable for biodegradable materials:
PBAT/ PBS/ PBST/ PLA/ PLC/ PPC
ZB-R
rubber and elastomer
Suitable for rubber and elastic plastics:
PU/ TPU/ TPE/ NR/ BR/ CR/ NBRIR/ IIR/ EPDM/ EPM/ ACM/ CSM/ ECO/ SI
ZB-F
reactor kettle
It is suitable for conveying and pressurizing polymer materials under vacuum reaction conditions
ZB-D
Demand for pressurization in pipeline
It is applicable to the demand of pressurization in the pipeline
ZB-U
spinning production line
Applicable industry:

Woodworking (hot melt adhesive, PUR adhesive)
Automobile industry (glue, lamp, hot melt adhesive)
Cold glue industry (dispensing machine, AB glue filling machine, coating and lamination)
Coating industry (electrostatic spraying)
ZB-X
chemical fluid transport
Suitable for spinning polyester, polypropylene, nylon staple, POY and FDY filament, and spandex
Hot melt gear pump accessories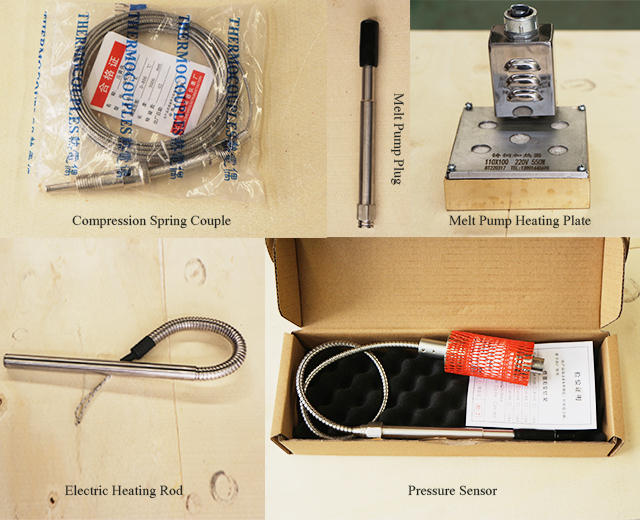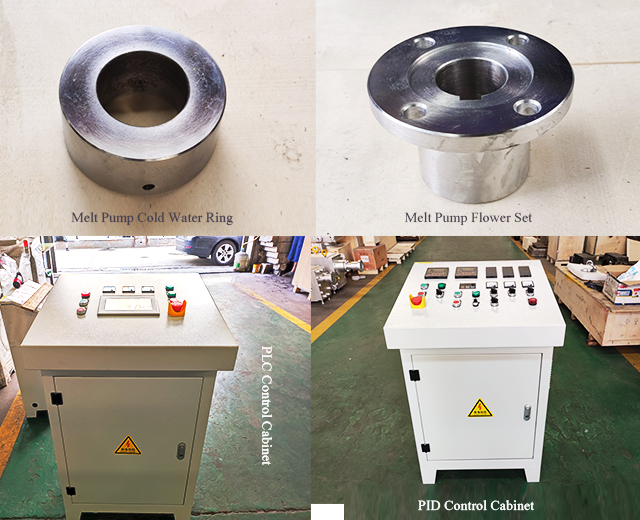 Common problems of melt pump:
1. How to choose a melt pump?
When selecting the melt pump for extrusion, the following working conditions shall be confirmed:
①equipment used by customers, generally speaking, the equipment used by customers includes extruder, reaction kettle, chemical fiber industry equipment, etc
②materials used and their composition
③material viscosity and temperature requirements
④pressure requirements, such as high-pressure transmission or negative pressure transmission
⑤output per hour
2. How to control the melt pump pressure?
The pressure control of the melt pump is controlled by a whole set of automatic systems, which we call the melt pump control system.
During the operation of the equipment, certain pressurization or decompression will be carried out according to the characteristics of some materials, so as to achieve the purpose of not damaging the material structure and not generating adverse reactions. The control method is mostly closed-loop, that is:
①Calculate the value according to the pressure sensors set at the inlet and outlet, then arrange the variable-frequency drive stroke closed loop, and then adjust the speed according to the value to achieve the control purpose. If the pressure value is set in advance, it will be automatically adjusted to the corresponding setting value.
②According to the inlet pressure value, the control system can feed back information to the extruder and drive the extruder to control the downward discharge, so as to realize the pressure control at the inlet of the melt gear pump.
③The temperature of the pump body can also be obtained by the sensor of the high-temperature melt pump body, so that the heating equipment can react relatively and realize temperature control to cope with the larger or smaller pressure value.
These three methods are the common methods to control the pressure of melt pump.
3. Can the melt gear pump use a very high packing content?
Zhengzhou Batte melt gear pump manufacturer will add the coating to the gear of the melt gear pump to protect the tool steel from wear and corrosion for the purpose to convey the melt with high filler content. Zhengzhou Bart wear-resistant melt gear pump has a special PVD coating, which can process high content of CaCO3 up to 83%. It can also process high-content glass fiber (≤ 45%), carbon black CB, TiO2, and wood powder composite (WPC).
4. Is the gear melt pump suitable for all extrusion processes?
From a technical point of view, there is basically no extrusion process that cannot use a melt pump. It is commonly used for sheet extrusion (PET, PP, PE, PS, hips), compounding, granulation (wire and underwater), coating, pipe, profile, blown film, and cast film extrusion. The melt pump can also be used for the production of wires, cables, textiles (fibers and non-woven fabrics), EVA, hot melt adhesives, and PSA.
5. How to protect the gear melt metering pump from overpressure?
To prevent overpressure of the melt pump, the pressure sensor shall be installed directly before and after the melt pump. Pressure sensors are usually connected to control systems with dual alarm functions (warning and shutdown). As a standard, the company integrates the pressure sensor thread into the housing of the melt pump. Therefore, no additional holes are required in the equipment before or after the melt pump.
Installation of melt gear pump
The high-temperature melt metering pump is generally installed in the mode of "drive motor + reducer + universal coupling + pump body". The motor adopts variable frequency speed regulation or servo speed regulation, and can be adjusted to the required flow at will. For products with high precision requirements, it is recommended to adopt servo motor speed regulation. Check and adjust the concentricity of pump base and motor drive shaft with measuring tools before installation; Ensure that the high-temperature melt metering pump shaft rotates in the direction indicated when ordering, otherwise the input shaft will be broken and the pump body will be damaged. The base of high-temperature melt metering pump shall be flat and have sufficient strength and rigidity. Under the condition that the bolts are uniformly fastened, it shall be ensured that the input shaft can rotate evenly without jamming. The installation error of the universal coupling shall not exceed its allowable deviation value, so as to avoid causing additional force and shortening the life of the shaft. The force shall be uniform when tightening the screws during installation. The installation methods are as follows: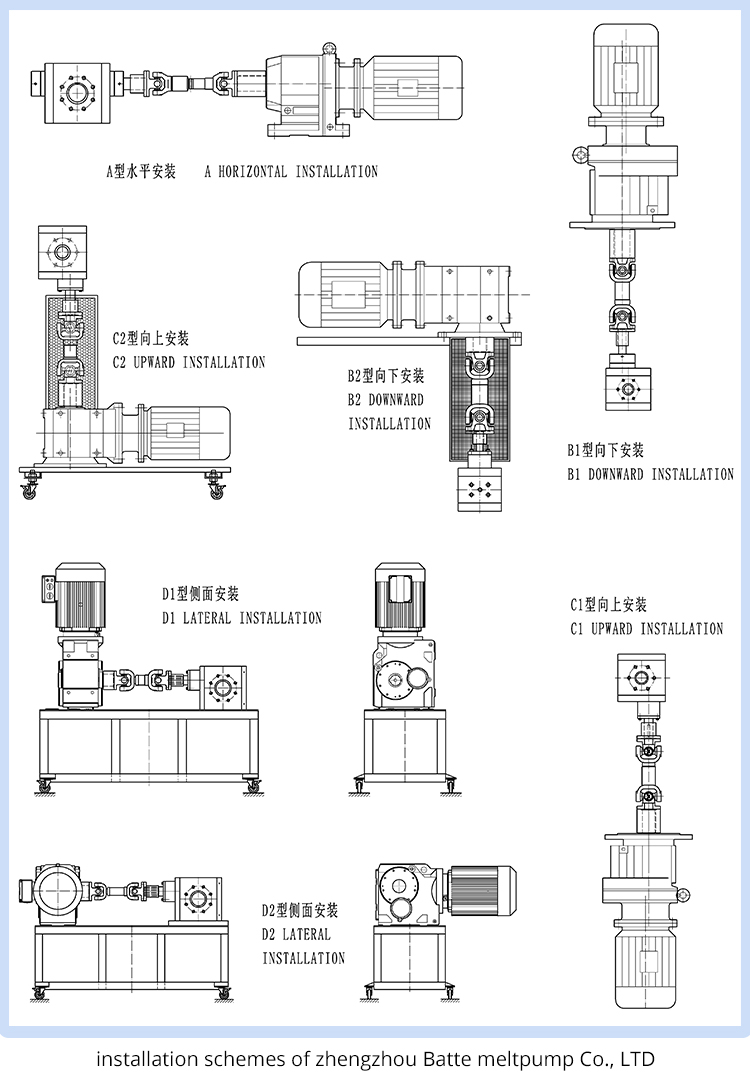 Melt pump production process video
batte melt pump production process video
Melt pump customer case
Melt pump for HDPE monofilament extrusion

new type rubber melt gear pump

Melt gear pump for BOPP BOPE BOPET BOPA film

Three layer extrusion sheet melt gear pump

zb-b melt gear pump for plastic hdpe sheet extrusion

batte extrusion metering polymer melt pumps

ZB-F series melt pump for reaction kettle

Melt pump for HDPE monofilament extrusion long